Sarika Pandit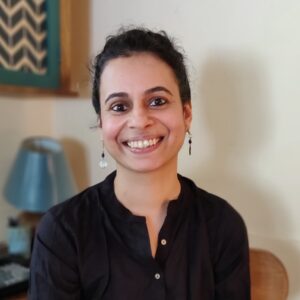 "Between stimulus and response, there is a space. In that space lies our freedom and our power to choose our response. In our response lies our growth and our happiness." – Victor Frankl's quote on day-to-day intentional living.
(Speaks English, Hindi)
A psychologist, author, artist and an Arts Based Therapy Practitioner, Sarika has done M.A. in Counseling Psychology, MBA in Human Resources and is pursuing PG Diploma in Counselling from Tata Institute of Social Sciences. As a co-founder of an NGO (Open Minds), and as a mental health professional, she has been working for 3 years towards helping adults and children deal with trauma and other emotional and behavioural difficulties. In 2018, she was the recipient of the REX Karmaveer Award for her work in the area of child abuse prevention.
She is passionate about advocating and destigmatising conversations around mental health. In her work with clients, she believes in holding a safe, containing space to help clients meet themselves with greater insight, acceptance and ultimately, compassion.
Sarika has done her MA in Counselling Psychology from IGNOU (2018-2020), PGD Counselling TISS 2019-2020. She also has additional certification in Arts Based Therapy (Mind and Arts Institute, 2018-2019), Advanced REBT (Albert Ellis Institute, 2020), CBT for Depression and Anxiety (Beck Institute 2020), Robert Carkhuff Model and TA (IHT 2019).